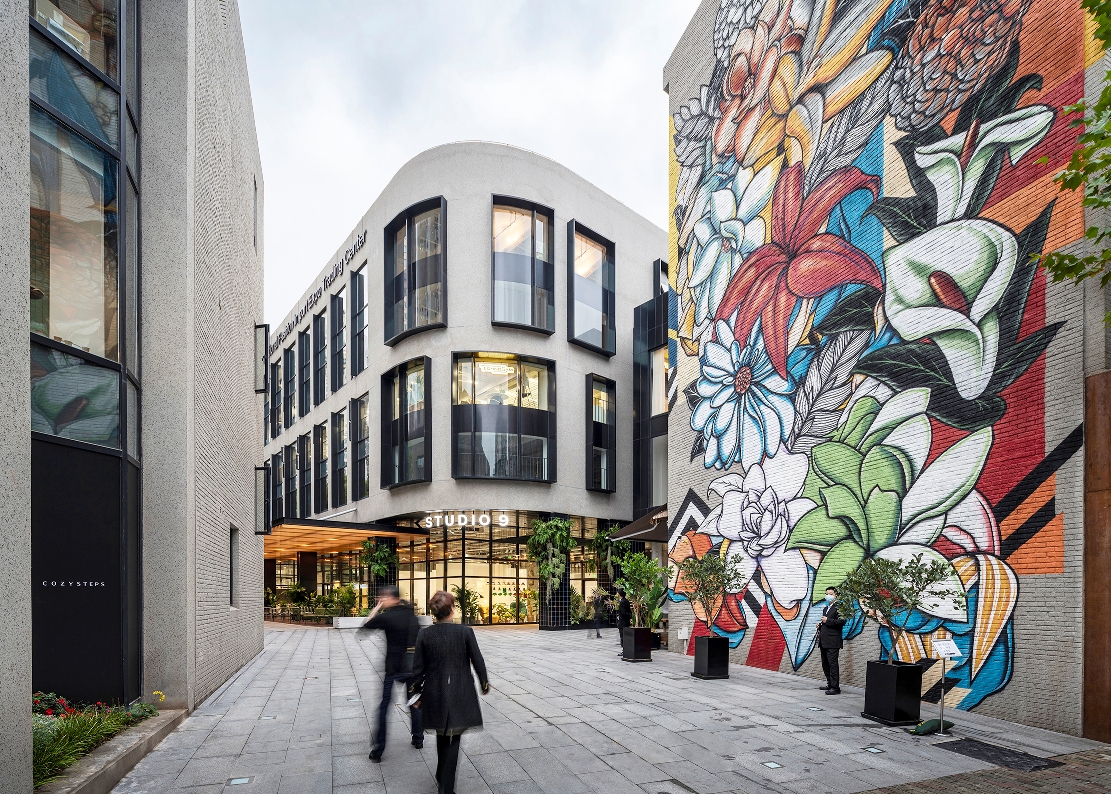 A completely renovated new district in Shanghai – UYAO 55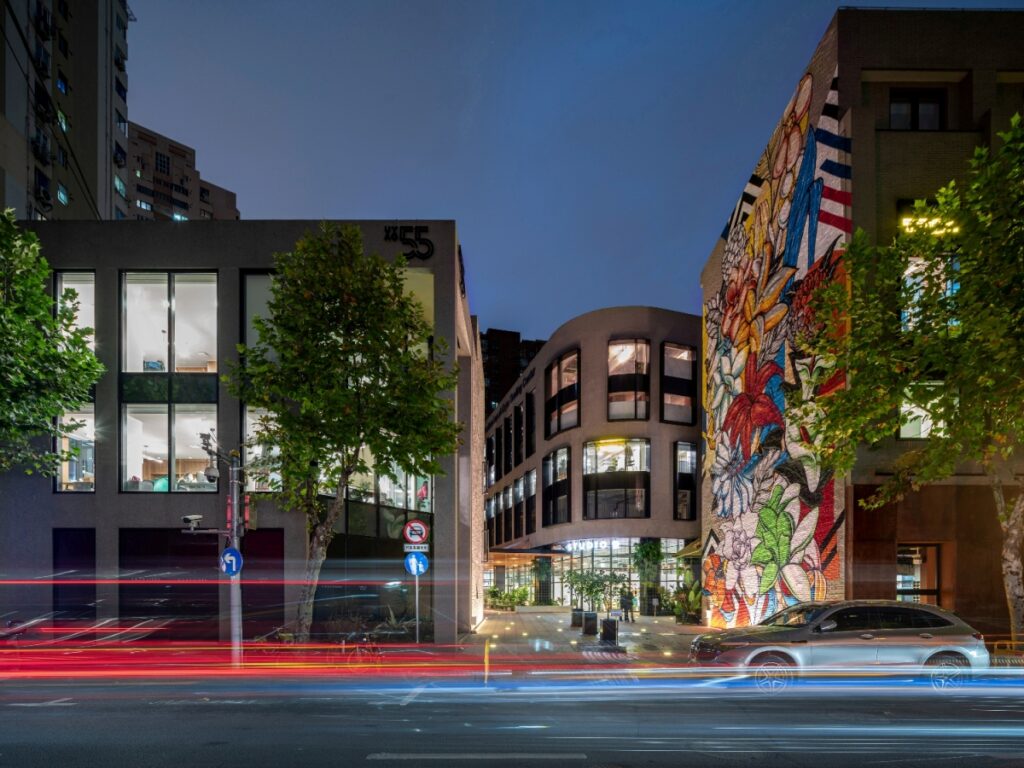 Entrance of UYAO 55, a new district devoted to fashion
On November 30th, 2022, after three years of work, and despite the disruptions caused by Covid, Arte Charpentier has just delivered a completely renovated neighbourhood, UYAO 55.
This former industrial site, in the heart of the city of Shanghai, is devoted to Import-Export activities in the field of Fashion.
Inauguration ceremony
Guests at the inauguration ceremony included:
M. Joan Valadou, Consul General of France in Shanghai
his economic attaché, Mme. Camille Fourmeau
Director General China CCIFC, Mme. Caroline Penard
Director General Shanghai CCIFC, M. Pascal Chen
The Consul General of Denmark, M. Nicolai Prytz
The project team, Wenyi Zhou, Pierre Chambron, Zhang Chi, Liang Jia and Luo Zexiu were also present.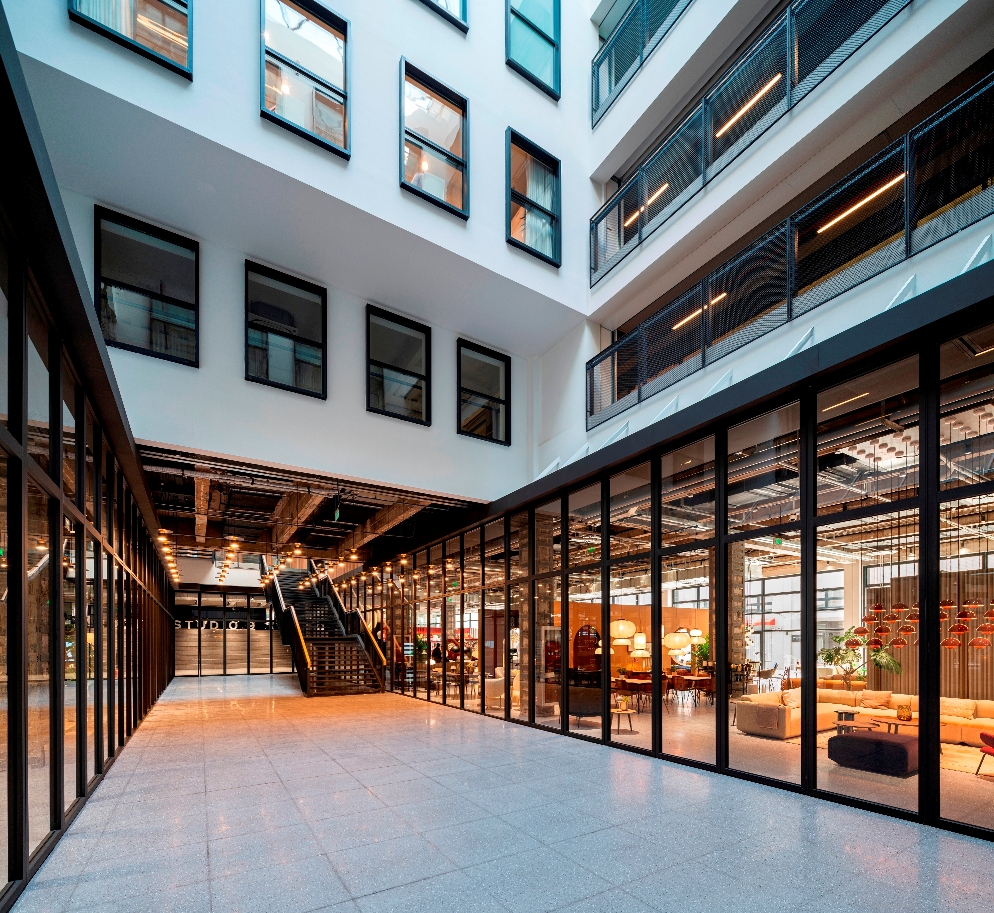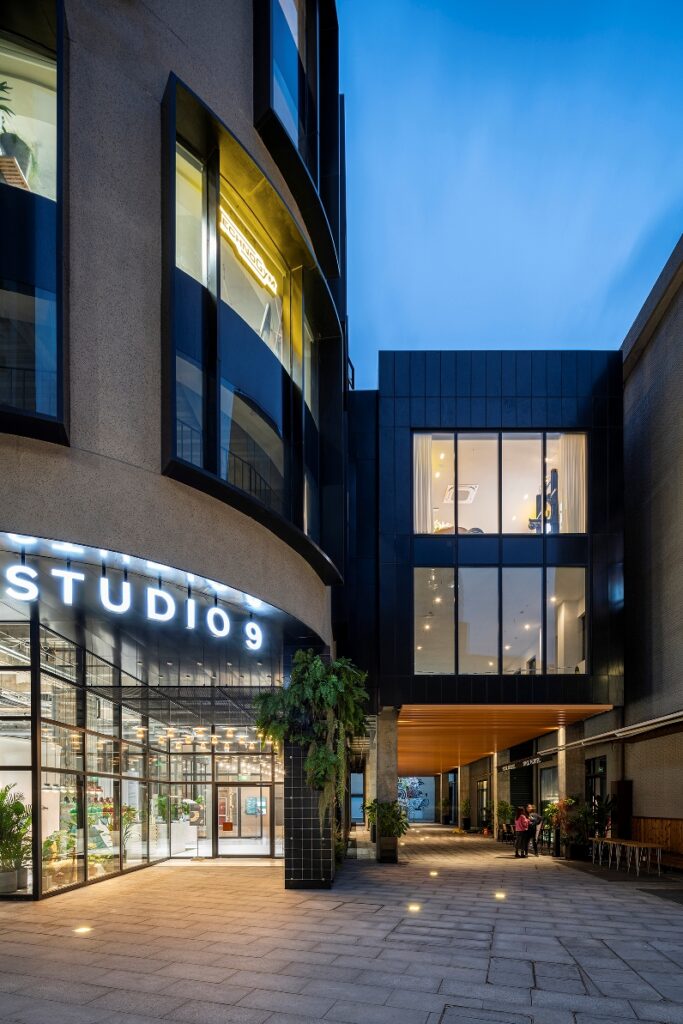 Night views
Excerpt from the speech of the Consul General of France in Shanghai, M. Joan Valadou
"It is an impressive project in many respects, firstly because it is the result of an international collaboration bringing together a French architecture agency, Arte Charpentier, a Dutch interior architect, AIM, Danish designers, Studio 9, and a Spanish artist, Miguel Angel Emérico. Almost all of Europe in its diversity has come to meet China and Shanghai!
It is also a success in terms of urban rehabilitation, transforming a former textile factory of the 60s and 90s into a modern space of creative offices, exhibition spaces, shops and restaurants, making it into a hotspot for the design and fashion industries. Gastronomy, fashion, design: everything we French enjoy and love to promote abroad! It is therefore a great source of pride to know that a French agency contributed to it!"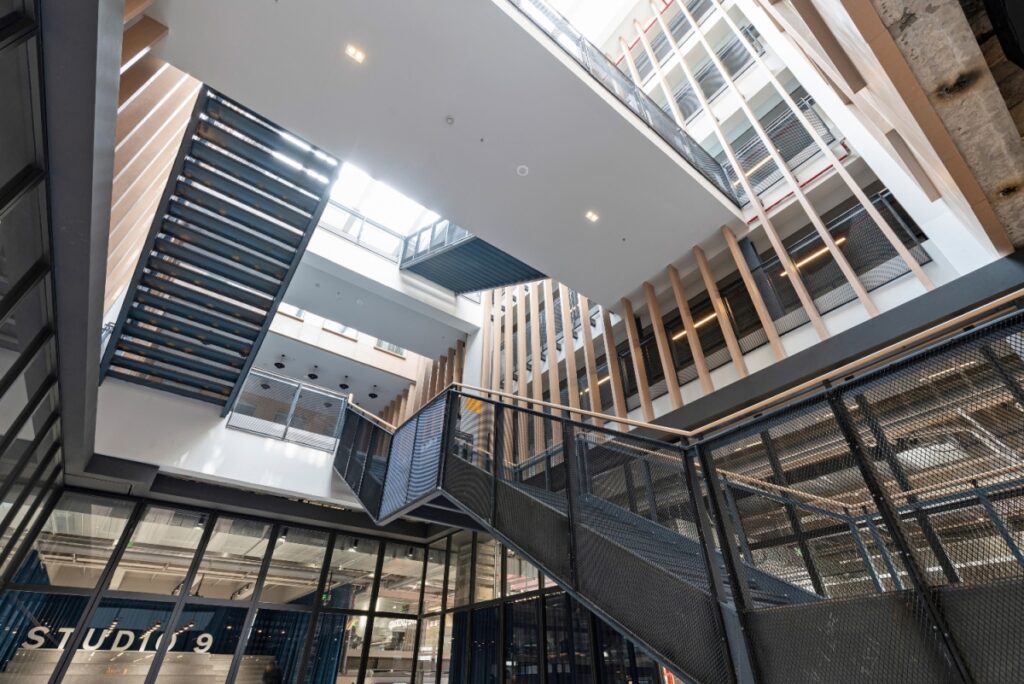 Détail d'un escalier depuis les circulations verticales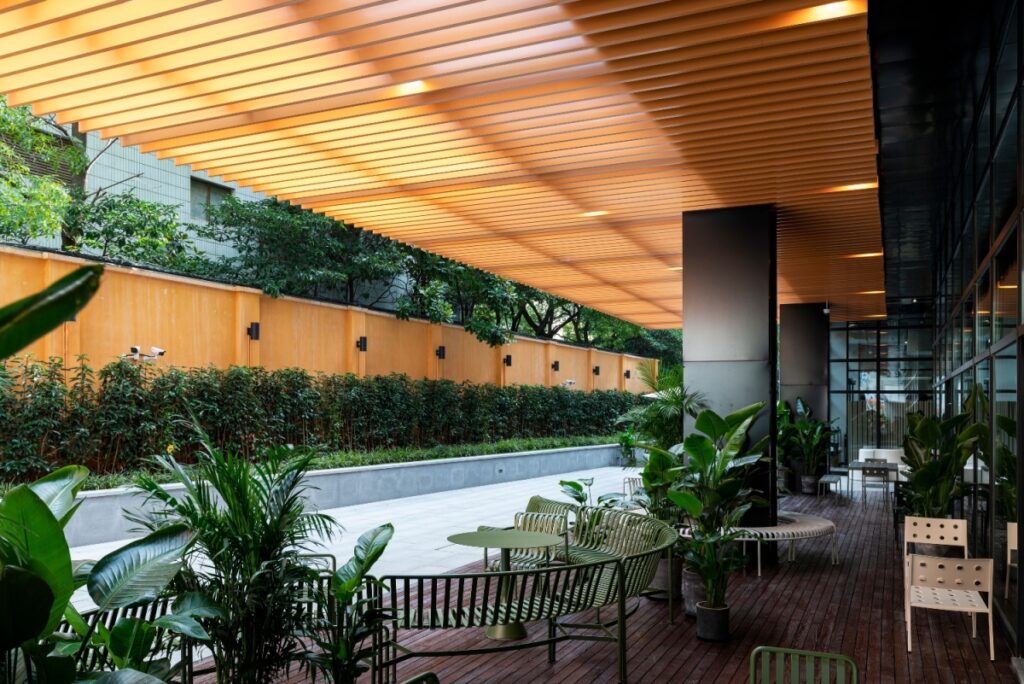 The pergola
Pierre Chambron, associate architect at Arte Charpentier, presented the design and renovation method to the guests:
"The project includes a renovated textile factory consisting of three concrete buildings dating back to the 1960s and 1990s. It hosts a mixed programme of showrooms, offices and restaurants.
The main building, on six levels, was pierced by an inner street connecting the ground floor to the upper levels. A generous staircase, walkways, bleachers and common spaces bathed in natural light promote encounters and exchanges, whilst creating a dynamic space."

Longitudinal section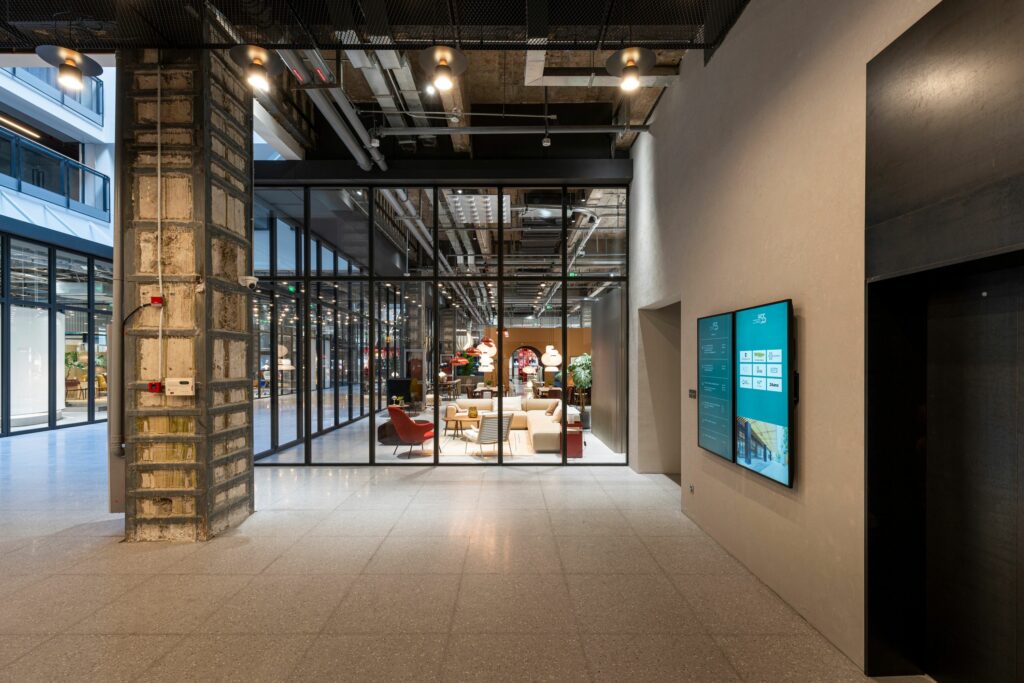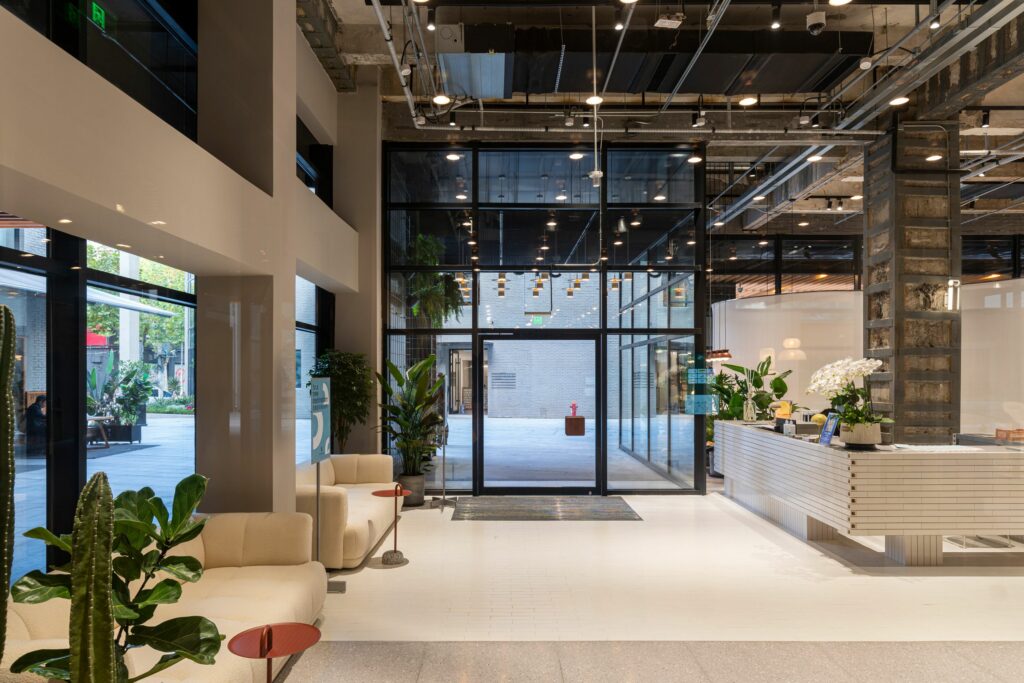 The entrance hall
Technical specifications
Contracting authority: Shanghai Shangfang Enterprise Management Co., LTD
Project manager∶ Arte Charpentier
Team∶ Pierre Chambron, Zhou Wenyi , Zhang Chi, Luo Zexiu, Luo Danxi, Peng Xuyun, Cai Zhaoyu
Plot surface area∶ 6 660m²
Built surface area: 20 000 m²
Programme:  Showrooms, offices, shops, restaurants
Wen Yi Zhou Architecte, Associée,
Directrice de l'agence Shanghai

FORMATION

Architecte D.P.L.G. – Ecole d'architecture de Paris-Belleville (2000)

C.E.A. « Villes orientales : métropoles d'Asie Pacifique » – Ecole d'architecture de Paris-La Villette (1996)

C.E.A. « Architecture Urbaine », Ecole d'architecture de Paris-Belleville (1995)

Diplôme en architecture, Université de Hunan, Chine (1992)

AFFILIATION

Membre du comité d'édition de la revue architecturale « Time + Architecture ».

PUBLICATION

Co-auteur du livre « De l'architecture à la ville, Arte Charpentier en Chine, 2002-2012 », édition ICI interface, 2012.