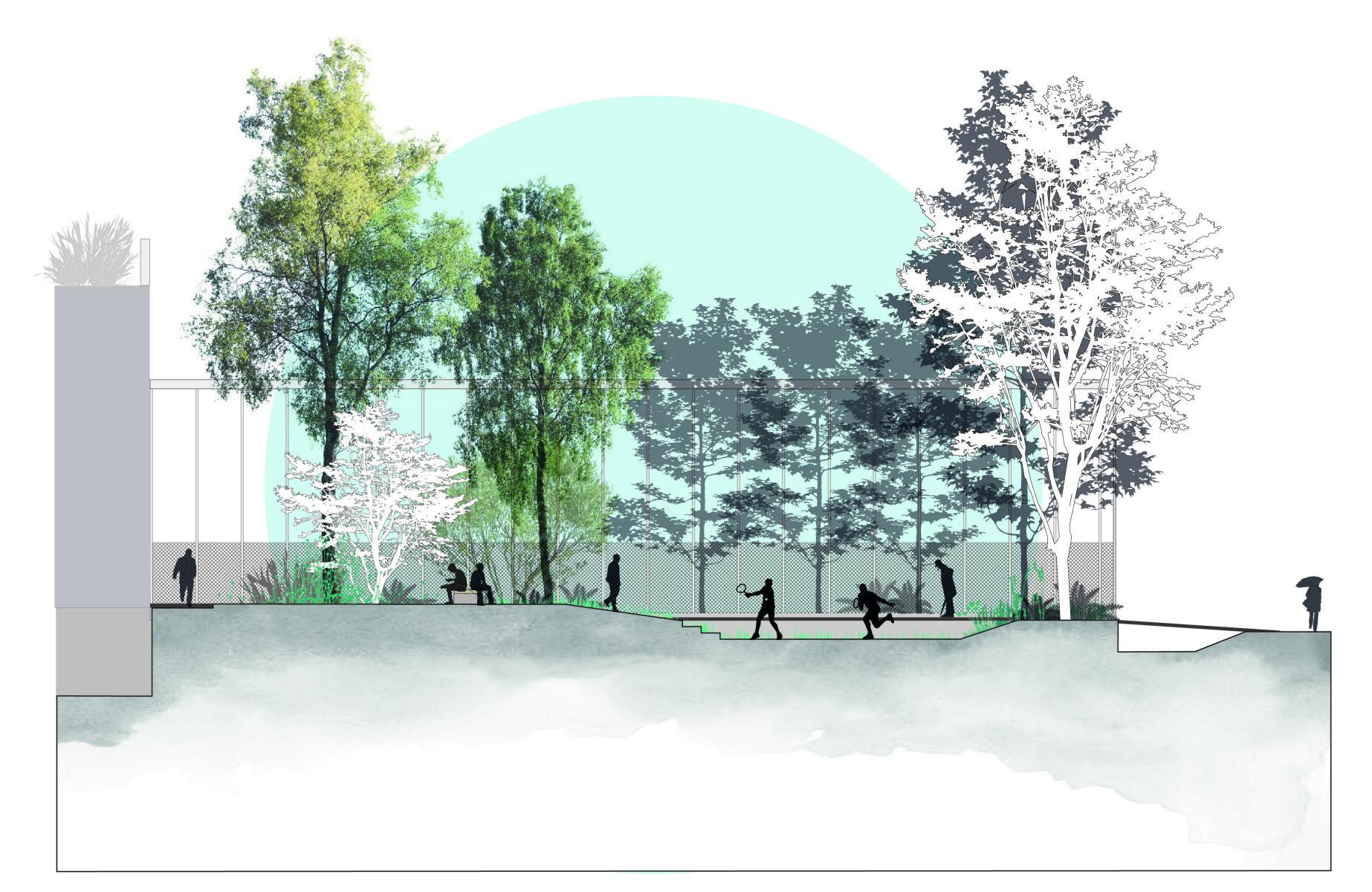 Soil: a resource for a living city
Crossed perspectives between Mexico and France

What is our soil made of? What is its biodiversity, its permeability? What are the harmful effects of intensive agriculture on our soils? What are the consequences of artificialising our soils? Is it possible to preserve the soil in dense cities?
The conference offers some crossed perspectives on this crucial subject.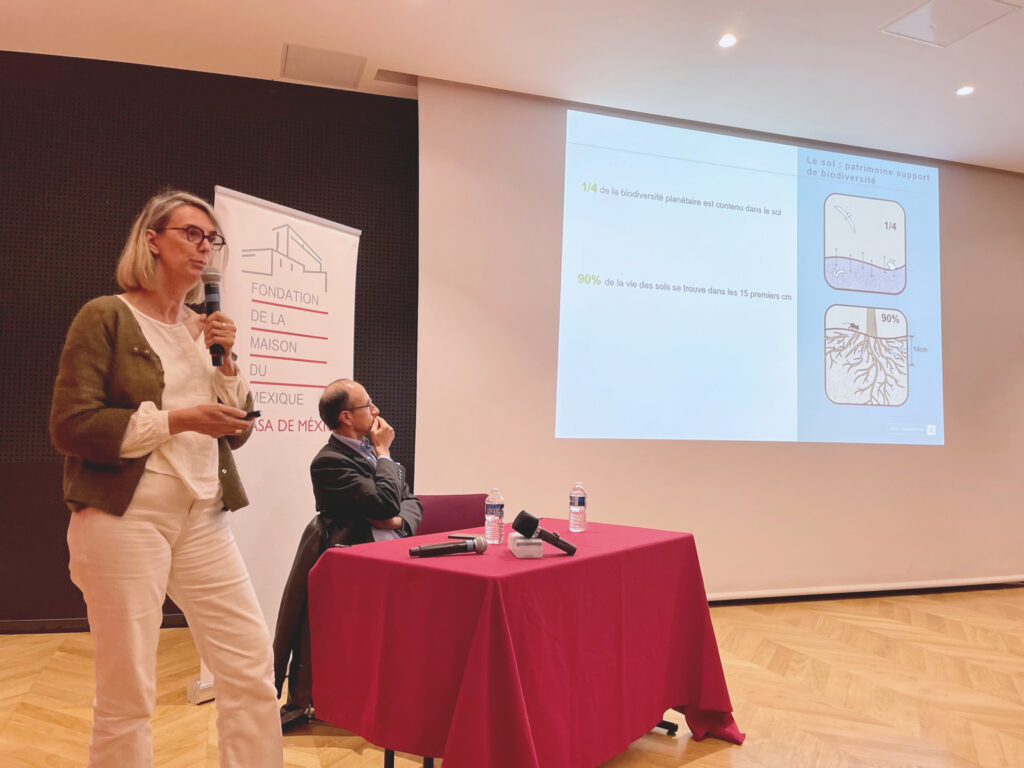 Nathalie Leroy and Hugo Cruz Ramos
during the conference at the Maison du Mexique
Mexican microbiologist Hugo Cruz Ramos sheds light on the microcosmos of the soil.
Nathalie Leroy, a French landscape designer, presents projects which have been carried out in urban areas, and discusses her research on soil biodiversity within the Arte Charpentier agency.

Illustration from Nathalie Leroy's presentation,
axonometry: water circuit in urban soils
Recording of the conference
Conference on September 29th, 2022 by Hugo Cruz Ramos – microbiologist & professor of biotechnology – and Nathalie Leroy – landscaper, Arte Charpentier – Maison du Mexique – 9C Boulevard Jourdan, 75014 Paris
The event was organised in collaboration with the Fondation de la Maison du Mexique, UNAM Francia, Cité Internationale Universitaire de Paris, SUP biotech, Arte Charpentier.
Nathalie Leroy Paysagiste concepteur, Associée
Directrice Territoire

FORMATION

Formation La Forêt-Jardin – École de permaculture du Bec Hellouin (2019)

Paysagiste D.P.L.G. – École Nationale Supérieure du Paysage de Versailles

Diplôme de designer textile – École Nationale Supérieure des Arts Décoratifs de Paris

PUBLICATIONS

Participation à l'ouvrage Les 101 mots du paysage, collectif, édition Archibooks, 2017

CONFÉRENCES

Intervention dans le cadre du Module Ville Durable – ESTP, Ecole Spéciale des Travaux Publics

Colloque sur la préservation des sols, octobre 2019 – CEREMA

Vidéo enregistrée pour le SIMI, sur le lien entre les Cycles du Vivant et la ville – CIBI

Animation d'une formation sur la coproduction de la ville avec les habitants. Depuis février 2020 – CADRE DE VIE

JURY

Le Havre, parc sportif paysager de Graville la Vallée

Antonio Frausto Architecte associé, Directeur Architecture

Directeur général délégué

FORMATION

Diplôme d'architecte avec les félicitations du jury – École d'architecture – Université Nationale du Mexique (2002)

Études d'arts visuels – École des Beaux-Arts – Université Nationale du Mexique (1992-1994)

ENSEIGNEMENT

École Nationale des Ponts et Chaussées depuis 2007

Directeur pédagogique à l'École d'art américaine de Fontainebleau, depuis 2006

CONFÉRENCES

Université Nationale du Mexique

Université Hong-Ik, Séoul, Corée

École d'architecture de Paris- Belleville

École d'architecture de la Ville et des territoires à Marne-la-Vallée

ESTP École supérieure des travaux Publics

JURY

Agora d'Evry / équipement public

Concours international Wellbuilding 2050

VIE ASSOCIATIVE

Administrateur AFEX (architectes français à l'export)

Chargé du groupe de travail Amérique Latine