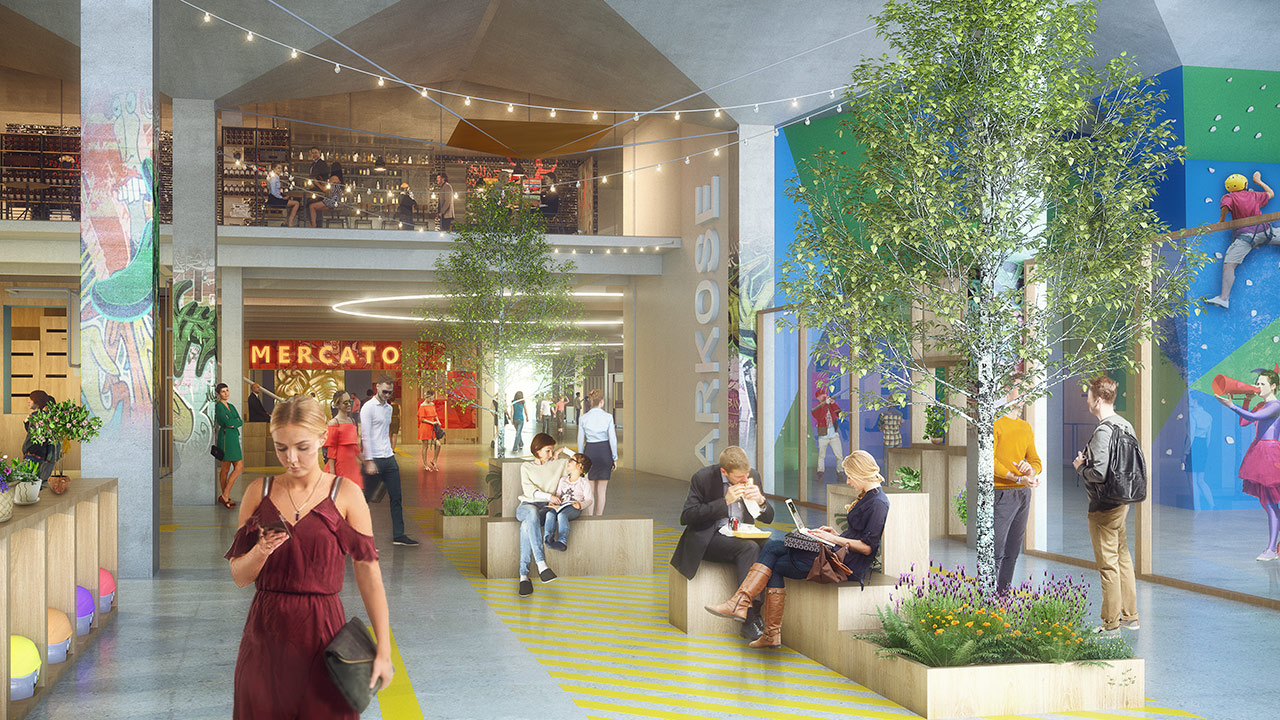 For several years, the agency has welcomed researchers and doctoral students who explore our areas of activity in relation to their research, share their knowledge with us, and structure our R&D axes. They provide a different perspective of our projects, and benefit from concrete field experience. A mutually enriching association.
After Georgina André, who brilliantly defended her urban geography thesis on Wuhan in 2020, we chose to welcome Sophia Verguin into our team, to further our research on the commerce of the future.
Who is Sophia Verguin?
Sophia Verguin, a DE HMONP architect, completed her bachelors' at ENSA Paris Malaquais, where she became passionate about architectural culture by way of Cinema (Rosselini, Tarkovsky, Akerman etc.), as well as the architecture of the late eighteenth century and the Italian tendenza. At the same time, she took part in the installation of the ArchiLab exhibition at the FRAC Centre, presenting exhibitions and leading workshops on architecture.
In 2018, at ENSA Belleville, she defended her thesis (research option), which won the Best Architecture Thesis Award from the Maison de l'architecture Ile-de-France in November 2018 for her analytical work "Confiner in Fine, les laboratoires en sciences expérimentales au Collège de France". She studied the evolution of the architectural programme/form. The same year, she defended her PFE "Museum Morpheus: collections et Recherche expérimentale au Musée national d'Histoire naturelle de Paris", and proposed a renovation and a new construction of 30,000 m² on a plot opposite the Jardin des Plantes.
In 2019, she obtained her HMONP and presented a brief about the influence of different types of architectural project assemblies on the design.
Sophia Verguin's thesis
A thesis supervised by two laboratories. Sophia Verguin is a PhD student at ESO Le Mans (UMR 6590 – Spaces and Societies) & CERILAC (Centre d'études et de recherche interdisciplinaires Lettres Arts Cinéma). It establishes its research within the framework of a CIFRE convention in collaboration with the agency since November 2020 under the direction of Arnaud Gasnier and Paolo Amaldi. Antonio Frausto is the referent within Arte Charpentier. Her thesis topic, entitled "Le centre commercial de demain: une centralité en devenir? S/Chopping malls, La nouvelle fabrique de la cité", questions the methods of the renewal of commercial spaces.
The economy, urban planning and sociology are so many perspectives and approaches that structure an architectural and urban research question.
A fascinating subject
Commercial vacancies, especially due to e-commerce and the issue of land as a common good (artificialisation of the land) have changed the stakes for city designers. Low-density peri-urban shopping centres, often overtaken by the city and placed above layers of car parks, are propitious sites for urban renewal.  What methods of innovative architectural and urban production can we propose to renew these spaces?
Research in dialogue
Sophia Verguin's research work is deployed in complementarity with the different departments of the agency (architecture, interior architecture, landscaping, urban planning) in the light of a practical approach that informs the project.
Sophia is also interested in research on approaches to applying sustainable development to the construction community in the processes of project management.
To learn more about Sophia and her work:
– General video presentation
– Podcast: «Le débat de midi» August 11th, 2021, France Inter programme by Thomas Chauvineau:  "est-ce la fin des zones commerciales ?", Guests: Pr Jean Girardon, Gontran Thüring, Olivier Razemon, Sophia Verguin
Antonio Frausto Associate Architect,
Architecture Director

EDUCATION

DPLG Architecture Diploma with jury's congratulations – School of Architecture, UNAM, Mexico (2002)

Visual Arts studies – UNAM, Faculty of Arts & Design (1992-1994)

TEACHING

École Nationale des Ponts et Chaussées, since 2007

Pedagogical Director at the École d'Art Américaine in Fontainebleau, since 2006

CONFERENCES

National Autonomous University of Mexico, UNAM

Hong-Ik University, Seoul, South Korea

Paris- Belleville School of Architecture

École d'Architecture de la Ville et des Territoires in Marne-la-Vallée

Higher Institute of Civil Engineering, ESTP

JURY

Agora d'Evry / public facilities

Wellbuilding 2050 international competition

EXTRA-DISCIPLINARY ACTIVITIES

Administrator for AFEX (French Architects Overseas)

Head of Latin-American working group