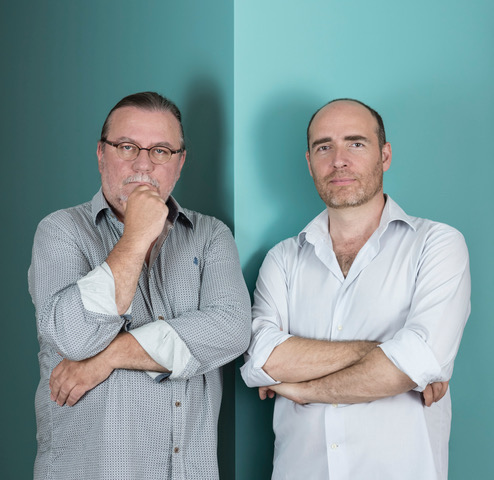 For 2 years, Luc and Sergio have been surveying the agency's projects. From the public spaces of Bagneux to the aromatic garden of Ducasse and the SHiFT construction site, their work highlights the agency's know-how.
– Luc, Sergio, can you introduce yourself in a few words?
Sergio: Luc, with his mastery of subjects and his precise framing, manages to express the genius of a place.
Luc: Sergio, in constant movement, tries to capture amazing scenes, whose architecture is the theatre.
Sergio and Luc: Through a synthesis of these two approaches, our partnership strives to create a images that are both precise and surprising.
– How did you get into architectural photography? Why?
Sergio: Having trained to be an architect, I realised along the way that I was more interested in serving architecture through images, rather than through projects.
Luc: After studying photography at the École Nationale Louis Lumière, a trip to Japan gave me a taste for architecture. The Japanese gardens, as well as the traditional Japanese architecture, set me on this search for the point of view, which remains important element of my approach in architectural photography today.
– What inspires you? Influences you?
Sergio: I am a great admirer of Martin Parr, a photographer of human comedy. I admire his ability to find irony in all his images.
Luc: For me, Walker Evans (1903-1975) is the absolute master. Convinced that the ability to document reality is the essential aim of photography, he raised the dual qualities of framing and viewpoint precision to the highest level.
– How do you work together? Do you each have a "specialty"?
Sergio and Luc: How we work depends on the scale of the project being photographed. Small scales encourage us to take the pictures together, making our choices by mutual agreement.
With bigger buildings, we share the roles, according to our appetites, without excluding images that might overlap.
Our constant concern is to serve the architectural project, by proposing a photographic narrative that will allow the viewer to apprehend its strength and qualities, without it being necessary to resort to the text.
– A favourite photograph from an Arte Charpentier report?
Sergio and Luc: The report on the building of the Ecole Ducasse – Paris Campus, and in particular the photograph showing a chef teaching, seen through the elements of the facade.
– The photo that you are most proud of (regardless of subject, date…)?
Sergio and Luc: It's difficult to identify a favourite photo. But what is important to us is the idea of sharing the authorship of all our images. We both find a bit of ourselves in the photos of the other. So we voluntarily keep the mystery of who was behind the lens.