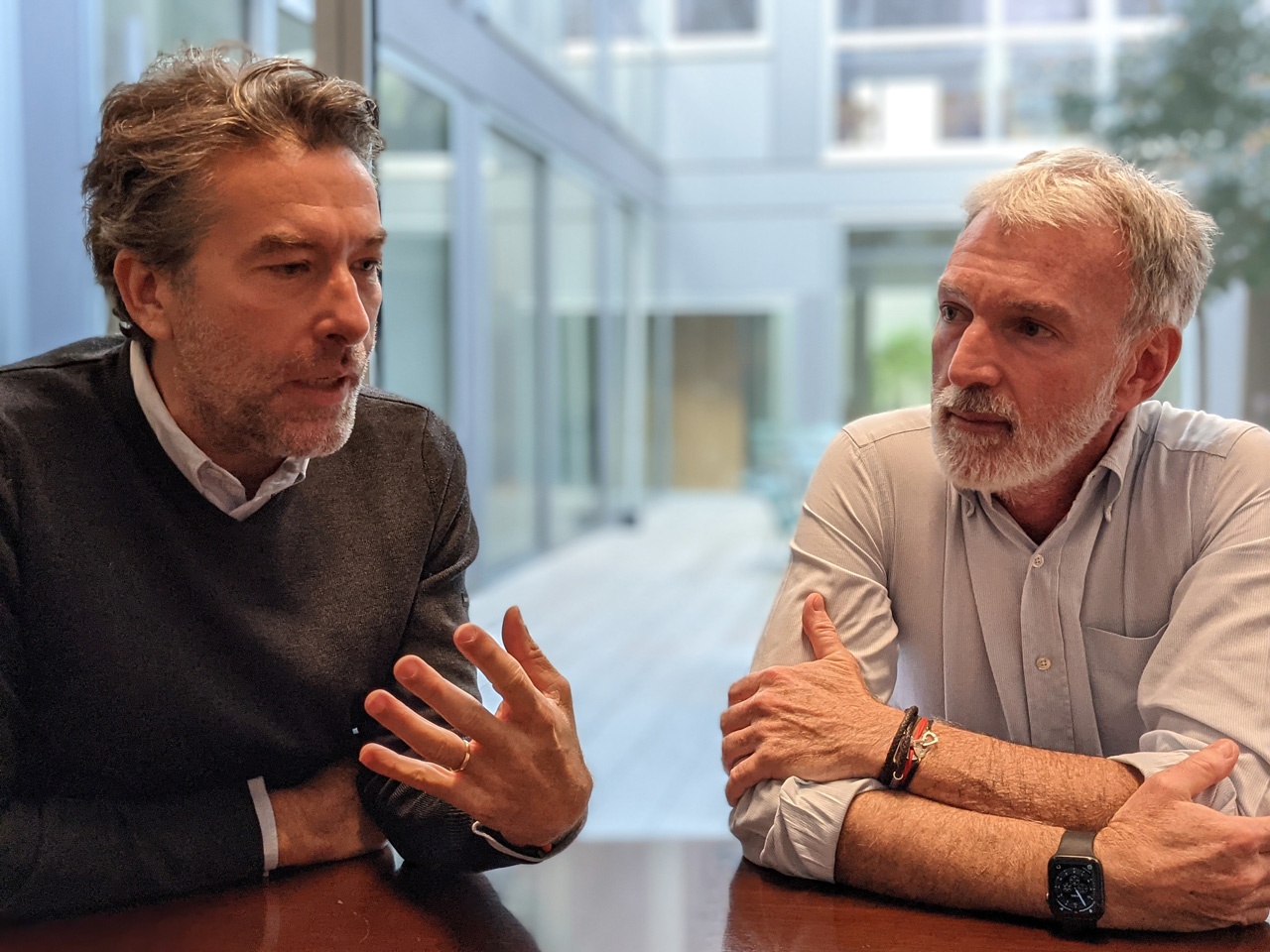 Cyril Durand Behar runs the agency that bears his name, founded in 1992. With a dozen collaborators, including 3 partners, Martin Lavigne, Nesrine Guerbouj and Gabriel Bardaux, he works on architecture, interior architecture and furniture design projects on all scales, for individuals or private contractors.

Stéphane Quigna, who trained at the Ecole Camondo, joined Arte Charpentier in 2005, after stints in the agencies of Jean-Michel Wilmotte, Franck Hammoutene and Christian de Portzamparc. He now rus the agency's Interior Architecture & Design division, which includes a dozen designers. With Clémence Rabin Le Gall, from the team, and Sylvie Simon-Elia, a member of the Architectes Solidaires association, he has just completed the association's first project, the refurbishment of the staff restaurant at the Jean-Verdier AP-HP university hospital in Bondy.

Their involvement with Architectes Solidaires, founded by Cyril and Esther Pinabel [BATI'life], brought them together around this a shared objective: to bring comfort and well-being to caregivers, on their scale and using the skills of their teams.

Arte Charpentier: Cyril, how did the idea of Solidaires Architects come about?
Cyril: During the lockdown, like everyone else, I was impressed by the involvement of the caregivers, who felt the full force of the health crisis, and involved themselves body and soul, without hesitation. And I thought to myself that we architects never do anything…
Our corporation carries out relatively few collective actions and, in my opinion, is not sufficiently united – and therefore lacking in solidarity. Both amongst ourselves, and with society in general. We rarely take to the streets – myself included. But here, I felt that something needed to be done.
We spend our lives making sublime spaces with incredible decors for private customers, and at the same time, we see the spaces of the people who take care of us deteriorate. They also deserve quality spaces, acoustically, graphically, visually.
So I thought to myself that we could try, on our humble scale, with what we know how to do, to lend a hand, to make a gesture for the hospital community. When I had this idea in early March (2020), I spoke to Esther [Pinabel, from BATI'life], who immediately got on board.
We quickly made contact with Protège ton soignant, and after a few weeks of exchanges, they told us, "Well, we have some money left, the association is not meant to exist after June, so what we have left after that, we'll give to you." They appreciated our approach and found it interesting that their action might continue differently through us.
Esther then came up with the idea of bringing together partners, manufacturers and suppliers we know well to work regularly with them on our projects. And of course I wanted to talk to other architects about it. Three agencies joined us: ORY.architecture, Viguier and Arte Charpentier, with Sylvie Simon-Elia. We also asked Builders&Partners to join us for the site monitoring, and they responded with conviction by also offering their engineering skills.
And it was touching to see that we were not in competition. Really, it feels good. It's fresh. We show our projects, we discuss. Naturally and impulsively, everyone followed, with great enthusiasm…
We decided to focus on the rest areas of hospitals in the Ile-de-France region at first, and we identified 3 or 4 places.
The agencies work on a voluntary basis, as corporate volunteers, the suppliers provide us with stocks and remainders, and the companies are of course paid, but at cost price.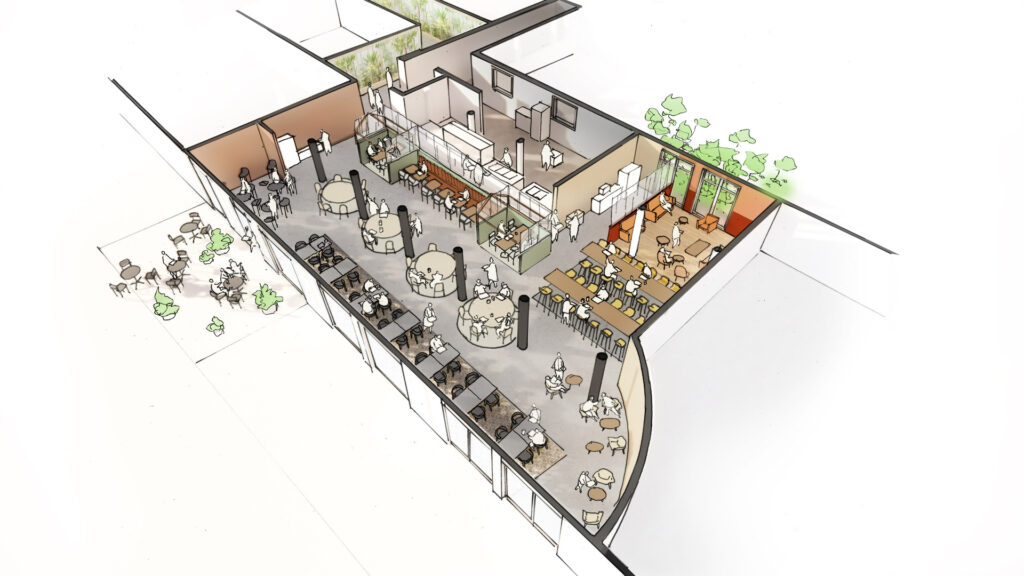 I am delighted that the first space was created by Arte Charpentier. The other three are in progress.
Arte Charpentier's project was quite a challenge, it was the largest space, a restaurant of 160 to 180 seats, of nearly 300 m².
It's funny, we got pretty close with these 4 agencies, I started liking Stéphane and the others on social networks, which hadn't happened to me before… It's a beautiful human adventure.
Stéphane: Initially, you called Andrew [Hobson, associate architect and general manager of Arte Charpentier], we didn't know each other. He immediately asked me for my opinion, and even though it was complicated to integrate – a complex site, in a hospital, a busy location, in August… -, we found the initiative so rich and spontaneous that, of course, we had to do it.
It was important, after the summer, to sustain and prolong the surge of solidarity for caregivers. And ultimately, this project is very consistent with our corporate culture.
So we didn't really know how we were going to do it, we had to understand how skills sponsorship works, integrate the project into our work schedule, etc., but we did it – largely thanks to Clémence [Rabin Le Gall, interior architect at Arte Charpentier], who tackled the subject head-on.
It made us feel good, it made the team feel good. It was a breath of fresh air. Even those who did not work on the project are pleased that the agency took this strong stance, which was not a given. In our work, which is not always simple, we sometimes have nice satisfactions, and this was one of them.
And the returns are extraordinary. It was very touching and gratifying to hear the doctors, the director of the hospital Marie Gourain, the head of the restaurant, and Alban Amselli, the deputy director of the university hospitals Paris-Seine Saint-Denis, tell us that our intervention had really changed their daily lives.
"On behalf of the leadership team, and all teams, thank you.
Thank you for your commitment, your approach and your desire for communion with caregivers, doctors …
It's important for you to know that you were with us a little bit every day during this crisis, as all donors were, and I thank each and every one of you for the work you did.
This renovation work has improved the working conditions of the caregivers, who must be thanked for what they do on a daily basis."
Alban Amselli, deputy director of the Paris Seine-Saint-Denis AP-HP university hospitals, on the occasion of the moment of thanks for the restaurant of the Jean-Verdier AP-HP university hospital, on 12/10/21
Arte Charpentier: What is the specificity of this type of intervention ?
Stéphane: It was very new for us, because the specifications were written by us. We proposed it, and we worked with the users, of course, but we were our own client, so to speak. We imposed constraints. It's a very difficult exercise. Usually, we have the quantities of materials we want. Here, we had to make do with the remainders of the supplier partners. We had to go beyond ourselves, be inventive, get out of our comfort zone, and in the end, we are proud because the project is still qualitative, with very few reservations. The result is there, and the restaurant opened in early September. It's educational, you always learn something new.
Cyril: On these particular projects, the difficulty is to make the project pleasant, acoustic, a quality project, with limited means. And success is collective, since it is made with little bits of everyone, with everyone's involvement and all the suppliers – Muuto, Tarkett, Grohe, Rockfon, Sto France… In fact it's even harder than a classic project!
Arte Charpentier: As architects, how did you approach this problem, of giving back qualitative spaces to caregivers, in complex conditions?
Cyril: Each agency was given free rein in term of the design, we are all adults, we have been doing architecture for 30 years, so everybody was given free rein. On the other hand, it was nice to present our projects to each other, and also to the suppliers, who could then suggest their products.
Stéphane: Yes, there were a lot of exchanges, it was good, it inspired our projects. And the philosophy was there, shared: not to be expensive, never to compromise on the requirements, and to be convincing in order to find partners.
Arte Charpentier: Has this experience changed your approach to the profession?
Stéphane: Fortunately not. Our approach on this project was the same as on all the others: sharing, proposals, the search for overall comfort and well-being, with high standards. We want to ensure that people feel good in the spaces we create for them.
Cyril: Yes, I can confirm that we have the same process. I think we pulled it off. If the caregivers only have 30 minutes to eat, then at least they can do it in a nice space, which brings them the same "disconnect" as if they were going out. We treated the caregivers like all our clients. Exactly the same. And we put seniors on the projects, with a lot of experience and conviction. Nothing was done lightly.

Arte Charpentier: How did the hospital welcome the approach? What were your relationships with the caregivers and the teams?
Stéphane: It was very interesting. I didn't know much about the hospital environment, and I had never been involved in this process of skills sponsorship. And they, in the same way, are not used to being "offered" something. When you give a gift to someone, the reactions can be complex. You can "fear" a gift, or be wary of it. When we said "we're going to redo your restaurant", and when we explained to them everything that involved, the closure, the constraints, etc., there was a moment of reflection. But we talked a lot, we explained, we did some outreach, and the two universes took a step towards each other.

Cyril: Yes it's true, it's the same on our construction site, in Lariboisière: we arrived bearing a dream, and in fact they were immediately very pragmatic, very technical. There was a real enthusiasm straight away, of course, but the operations are obviously much more concrete. That's normal. The hospital teams have very high requirements, we were in daily contact with the SHPs [safety and health practitioners].
Stéphane: Anyway, it was a great experience. And we realised the scope of the task from the inside…
Cyril: What we do is just a drop of water… But it is gratifying, and the hospital community has really reaffirmed our approach: they were grateful not only for the material comfort they obtained, but also and especially for the support that the approach brought them.
"We are very proud to have carried out the renovation of the staff restaurant at the Jean-Verdier hospital. Its opening on September 1st was a decisive step in improving the staff's quality of working life. It is now a warm and modern space that benefits all the professionals of the site. The acoustic and thermal gain is a great success, it offers everybody the possibility of having friendly break with their colleagues. We spare a thought every day for the association and its donors, without whom this would not have been possible."
Marie Gourain, Director of the Jean-Verdier University Hospital AP-HP.
Of course, you can't do five volunteer projects a year, right, that's not possible. So you have to bring in colleagues. There's a significant investment of time and energy, it needs to rotate, the movement needs to grow, and other agencies need to join us. We also need to expand Architectes solidaires by recruiting skills we don't have.
And of course, the key issue is money.
We want to multiply our actions, we need help to reach other places, and also to get out of Paris.
That is why we are now looking for other partners who could join us to finance the association and its actions.
We discovered solidarity with this action. Since there is no economic interest between the parties, the feedback is full of sincerity. It's good for everyone: for us architects, for suppliers, partners, for the hospital community. I hope that many will join us, so that we can do more, in more hospitals, all over France.
At the beginning of September 2021, after a month of renovation work, the staff of the Jean-Verdier AP-HP University Hospital in Bondy in Seine-Saint-Denis discovered a new catering space worthy of their daily commitment.

It offers the hospital community a friendly and pleasant break area thanks to a significant acoustic renovation and a redevelopment of the spaces and their design.
As the first completed project out of the four selected by the Architectes Solidaires association for the period 2020-2021, it was carried out on a voluntary basis by the Arte Charpentier agency (studies, sketches, figures), Builders&Partners for the site monitoring, Sylvie Simon-Elia, architect (coordination with project management), and donations of materials and furniture from STO, MUUTO, SILVERA, TARKETT and ROCKFON. The building work was carried out by BMA.
This renovation would not have been possible without the financial support of the Protège Ton Soignant collective and the Capelli Foundation.